Double Wall Horizontal Tank Features
UL 142 labeled
Secondary containment
Meets Federal SPCC requirements
Fully-monitorable interstitial space
Easily relocated, economical installation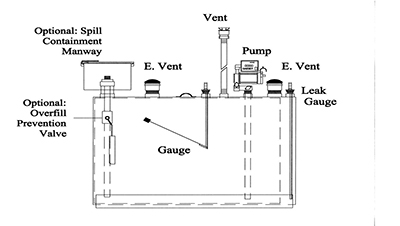 | | | | | | | | | | | |
| --- | --- | --- | --- | --- | --- | --- | --- | --- | --- | --- |
| 300 | 39" | 6' | 12 GA | 12 GA | 725 | 3" | 2,710.00 | | 3,735.00 | |
| 520 | 49" | 6' | 12 GA | 12 GA | 988 | 4" | 3,395.00 | | 4,425.00 | |
| 1000 | 49" | 12' | 10 GA | 12 GA | 1891 | 6" | 6,075.00 | | 7,125.00 | |
| 1000 | 65" | 7' | 10 GA | 12 GA | 1720 | 6" | 5,570.00 | | 6,635.00 | |
| 2000 | 65" | 13' | 7 GA | 10 GA | 3795 | 6" | 10,925.00 | | 11,825.00 | |
| 2500 | 65" | 16' | 7 GA | 10 GA | 4585 | 6" | 13,470.00 | | 14,295.00 | |
| 3000 | 65" | 19' | 7 GA | 10 GA | 5415 | 6" | | | | |
| 4000 | 65" | 25' | 7 GA | 10 GA | 7020 | 8" | | | | |
| 4000 | 85" | 15' | 1/4" | 10 GA | 8470 | 8" | | | | |
| 5000 | 97" | 14' | 1/4" | 10 GA | 8900 | 8" | | | | |
| 6000 | 97" | 17' | 1/4" | 10 GA | 9510 | 8" | | | | |
| 8000 | 97" | 22' | 1/4" | 10 GA | 11490 | 8" | | | | |
| 10000 | 97" | 28' | 1/4" | 10 GA | 14240 | 8" | | | | |
| 12000 | 97" | 33' | 1/4" | 10 GA | 16645 | 8" | | | | |
| 15000 | 133" | 22' | 1/4" | 7 GA | 20300 | 8" | | | | |
| 20000 | 133" | 29' | 1/4" | 7 GA | 24900 | 8" | | | | |
*–Double Wall tanks require 2 emergency vents.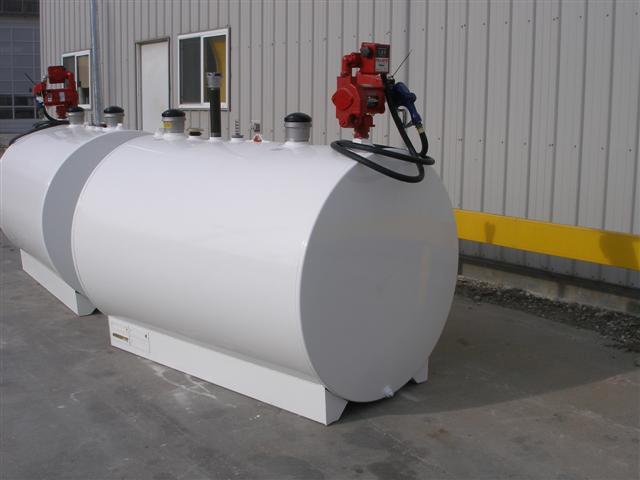 Package Price Includes:
Normal vent with nipple
Qty. 2 emergency vents per tank
Level Gauge and Fill Cap
Krueger Leak Gauge
Fill-Rite 701V pump with suction stub
Optional Accessories
Overfill Prevention Valve: $1062
Spill Containment Manway: $412
Waste Oil Box: $300
We Can Help You
Let our experience help you with all your industrial storage tank needs!